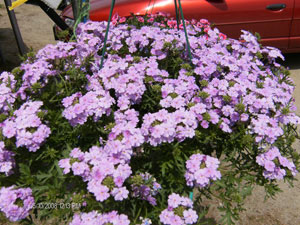 Hanging Baskets - Window Boxes - Mixed Planters - Hanging Bags
Annuals
Perennials
Mums & Asters
Season Extenders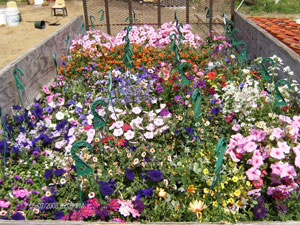 We offer hanging baskets and window boxes in various sizes and styles. Baskets range from 6" to 12" in diameter and we have types suitable for both sun and shade.
Our best sellers are our
mixed baskets
which we create right here on the farm.
Our secret is our fertilizer and our baskets are fertilized for the entire season.
If you want to make your own hanging basket(s), we have empty pots (both green and terracotta) and potting soil. Just add your choice of annuals and/or perennials to create your own masterpiece.

Annuals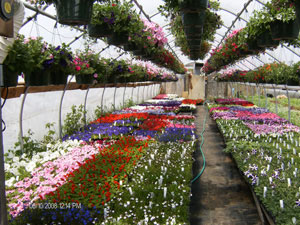 Buy your annuals in 6-packs (mix and match), 4" pots or 6" pots.
We grow everything from ageratum to zinnia.

Perennials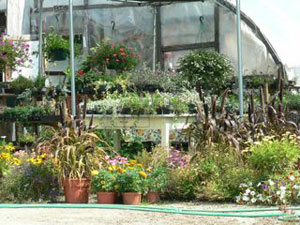 Available in quarts and gallons.
We grow perennials you just can't find elsewhere, like yellow lupine.
Just some of our favorites:
Astilbe
Creeping phlox
Daisy
Sedum
Foxglove
Hollyhock
Echinacea
Gaura
Polemonium - Brise d'Anjou

Mums & Asters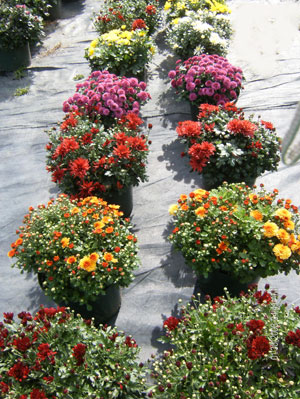 Available in late August in sizes from from 4" to 14".

We grow over 6000 mums and asters right here at the Pantry. That's a lot of pots and watering.
You'll see some of ours at Windy Ridge Orchard, Pierson Farm and Hanover and Lebanon Co-ops.

Season Extenders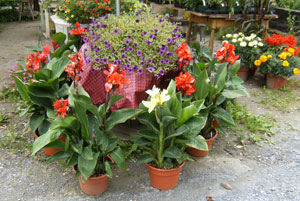 Is the season just not long enough for you?
We have lots of choices for color and effect for that late season look.
Sunflowers
Calla Lilies
Canna
Cleome
Dahlias
Mandevilla
Ornamental Grasses

Piermont Plant Pantry
Website design ©2009
CustomSUPPORT
Comments about this site? Contact:
Webmaster
All Rights Reserved. Unauthorized use or duplication prohibited.