Holiday Items
Each year we have a crew of from 4-8 people hand-assembling Balsalm Wreaths, Balsalm Roping (garlands), and other holiday decorations from native materials. All of our creations are hand-made and hand-tied and can be custom-made to order. We have been doing this on-site in the Upper Valley for over 20 years. Besides here at the Plant Pantry, you can find our creations at the Co-ops in Lebanon, Hanover, Littleton, and White River Junction.
Our Holiday Items are available at the Pantry about November 15th thru December 20th. Balsam Christmas Trees are available after Thanksgiving.
All our Holiday Items can be decorated with Bows, Ribbons, Cones, and Berries.
Bows or Ribbons in Red, Blue, Cranberry, and Burgundy
Plain or Fancy Bows or Ribbons

Wreaths
Balsam or Balsam/Pine/Cedar Mix
Single or Double-faced
From 6" to 60" (ring diameter)

Roping (Garland)
Balsam or Balsam/Pine/Cedar Mix
Any Length

Kissing Balls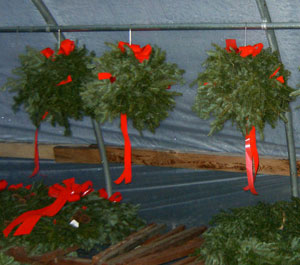 Novelty Items
Balsam
Candy Canes
Trees
Crosses
Hearts
Door Arches
Mailbox Swags
Door Swags
Centerpieces with Candles

Piermont Plant Pantry
Website design ©2009
CustomSUPPORT
Comments about this site? Contact:
Webmaster
All Rights Reserved. Unauthorized use or duplication prohibited.