Nothing is fresher, or more tasty, than fresh vegetables grown in your own backyard.
See us in the Spring for a great assortment — ready to plant.
You'll find 6-packs of your favorites as well as some unusual choices that may become your new favorites.
Try mixed 6-packs — grow your own mixed salad.
Or get a jump on Spring with single pots of tomatoes and peppers, already well-started.
(We offer a great way to extend your harvest season — tomatoes planted in stages so that not all plants mature at the same time and
we label them for you by maturity date
so you know how to mix and match them.)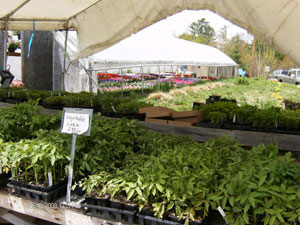 This year, try:
Eggplant
Swiss Chard
Okra
Squash
Pumpkins
Cucumbers
Winter Squash
We have a new herb display for 2010
Buy your herbs in 6-packs or singles. We have mixed 6-packs for variety.
Basil (our most poular)
Italian herb mixes
Other mixes

Piermont Plant Pantry
Website design ©2009
CustomSUPPORT
Comments about this site? Contact:
Webmaster
All Rights Reserved. Unauthorized use or duplication prohibited.